Regulators should have established mechanisms for consultation and dialogue with stakeholders as part of achieving their objectives. Effectively drawing on the knowledge of regulated sectors and understanding the views of regulated businesses and citizens systematically improves the quality of regulatory decisions. Ensuring stakeholder views are heard and weighed also helps confer legitimacy on the regulator and its decisions and supports compliance. Engagement processes must be designed in ways that avoid regulatory capture and conflicts of interests.
Analysis can be improved through better information and confidence in regulator is also improved as stakeholder concerns are taken into account. Quality of the Engagement process should be systematic and open, supported by the provision of adequate information, and characterized by the provision of feedback, and evaluated.
Steps in Mobilizing and Engaging Pro-Reform Forces
Identify a "lead convener": who will lead the Guiding Coalition? Either a "backbone organization" or an individual who can pull the collaborative together should be chosen. The role of the convener is central in every way. The lead convener must have the trust and respect of the community; organization with clout to bring leaders together and inspire them to stay engaged; and neutrality to initiative based on data,  not on pre-conceived agenda. The lead convener would organize regular meetings and act as an influential champion with modesty and maturity.
Create Transparency Scorecards: components of transparency include explanation of policies, principles and processes; annual reports; statement of expectations and objectives; and timeliness.
Recognize "price increases" as a dangerous element of reform: prices are highly visible and increases are likely to incite the public even if currently TR<OPEX. Instead of being used as subsidies, taxes could be used to build schools, hospitals, highways, etc. Visible improvements promote confidence. When service quality is low, the value of the service is viewed as low. Cash flows can be enhanced by addressing collections and disconnected customers.
Engage the community and build public support: develop a communications plan to guide how to build public interest and enthusiasm, and to manage perceptions. Organize a launch event to announce the collaborative and its partners; share the goals, the logic map and the benchmark data. Develop related press materials detailing compelling data and local stories about the problem, as well as planned solutions and commitments from the influential champions like the mayor or CEOs. Engage supporters and partners as a part of the public launch.
Determine stakeholder influence over and interest in reform: the purpose of stakeholder engagement is to gather required information, enabling a better analysis of key issues in the regulated industry – improving the quality of regulatory decision-making; and to promote confidence in the regulator and its decisions by ensuring that the opinions of affected groups are seen to be taken into account. This, in turn, promotes the legitimacy or the regulator and its decisions.
Potential Stakeholder Dimensions:
Ability to influence:

Direct influences – leaders, politicians, infrastructure executives
Indirect influences – media, business leaders
Weakly influences – often the poor and minorities

Strength of interest: strongly vs. weakly interested
Relationship to regulatory initiatives:

Allies
Opposition
Casualties
Stirrers
Authority figures
Regulator

Ability to participate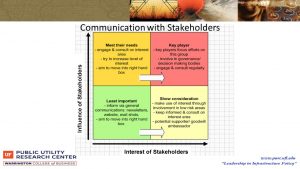 Additional Resources: A FAQ and an OECD Report
What are the most effective strategies for involving the public in regulatory issues?
Stakeholder Engagement for Inclusive Water Governance.  (OECD)
The report includes mapping techniques, obstacles to engaging stakeholders, mechanisms for promoting substantive interactions, and profiles of stakeholders: national governments, sub-national governments, international organizations, service providers, regulators, business, financial actors, civil society, science and academia, and advisors.  http://www.oecd-ilibrary.org/docserver/download/4215051e.pdf?expires=1429623873&id=id&accname=ocid194682&checksum=99E61E77FEA2E1E6596266CFA4456814